Time Life Photo Essays Homeless
In 2008, accountant and amateur photographer Lee Jeffries was in London to run a marathon. On the day before the race, Jeffries thought he would wander the city to take pictures. Near Leicester Square, he trained his 5D camera with a long, 70-200 lens on a young, homeless woman who was huddled in a sleeping bag among Chinese food containers. "She spotted me and started shouting, drawing the attention of passersby," Jeffries says. "I could have just walked away in an embarrassed state, or I could have gone over and apologized to her." He chose the latter, crossed the street and sat with the woman. The eighteen-year-old, whose complexion indicated she was addicted to drugs, told Jeffries her story: her parents had died, leaving her without a kit home, and she now lived on the streets of London.
This experience had a profound effect on Jeffries, sharpening the focus on the subject matter of his street photography—the homeless—and defining his approach to taking pictures. He didn't want to exploit these people or steal photographs of them like so many other photographers who had seen the homeless as an easy target. In an effort to make intimate portraits, Jeffries would try to connect with each person on an individual basis first. "I need to see some kind of emotion in my subjects," Jeffries says. "I specifically look at people's eyes—when I see it, I recognize it and feel it—and I repeat the process over and over again." Jeffries tries to keep the contact as informal as possible. He rarely takes notes, feeling it immediately raises suspicion, and prefers to take pictures while he is talking with his subjects to capture the "real emotion" in them. "I'm stepping into their world," he says. "Everyone else walks by like the homeless are invisible. I'm stepping through the fear, in the hope that people will realize these people are just like me and you."
Self-taught and self-funded, Jeffries has used vacation time to travel to Skid Row in Los Angeles three times, as well as Las Vegas, New York, London, Paris and Rome, to continue his project. The way that Jeffries processes his images and the heavy use of shadow and light within his pictures is a direct reference to the religious overtones he felt while photographing the beggars and homeless in Rome. The underexposure in camera and process to dodge back light where he wants it—although done in a digital environment—relate more to the traditions of analog printing. The effect of the subjects on the photographer is equally heavy: "When I'm talking to these people, I can't then leave that emotion, so when I get back to my computer so emotionally involved, sometimes I will start to cry when processing the image," Jeffries says.
The photographer's passion has become his life mission. He uses his photography to draw attention to and raise funds for the homeless, posting the images to Flickr and entering the work into competitions. Over the past three years Jeffries has placed third, second and second in an annual Amateur Photographer magazine award contest, and has won separate monthly contests which come with a camera as a reward. Each of the half dozen cameras he's won has been donated to raise funds for charities, including homeless and disability organizations. The proceeds from Jeffries's Blurb book, which features homeless portraits, go to the Union Rescue Mission in Los Angeles and the photographer allows any charity to use his images free of charge. Jeffries also runs the London and New York marathons to raise money for Shelter, a U.K. housing charity. He's committed himself at a more personal level too, buying lunch for a man who had lost his fingers and toes to frostbite or taking a woman with a staph infection to the hospital when she was sick. Jeffries estimates he has given thousands of dollars to these individuals, but what he has given them in terms of a sense of dignity and outpouring of concern is immeasurable.
Jeffries's powerful portraits are getting noticed. He recently won Digital Camera magazine's Photographer of the Year award. There has been an explosion of interest in the last two to three months as the images have been shared across the web, spreading virally via Flickr, Facebook and Twitter, and more recently, appearing on blogs and in mainstream media including the Independent and Guardian. A book is slated to be published next month by Yellow Korner. The increased exposure is welcome news for a man whose self-funded journey can be difficult. "I can't change these people's lives," he says. "I can't wave a magic wand but it doesn't mean I can't take a photograph of them and try to raise awareness and bring attention to their plight."
Lee Jeffries is a photographer based in Manchester, England. See more of his work here.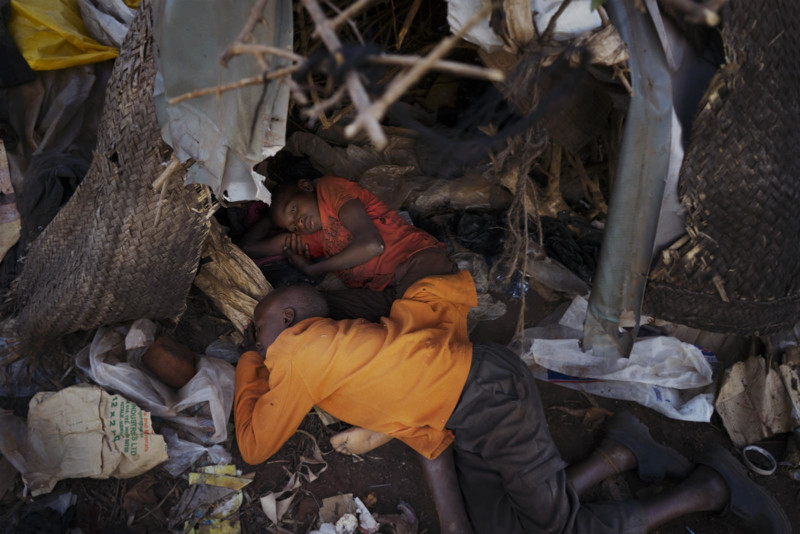 It's five o'clock in the morning, and a cold mist lies upon the small Kenyan town of Kitale. Only if you walk around the empty town at the break of dawn will you notice the part of life that society is hiding. On cold, concrete floors, all over the city, lie hundreds of children fast asleep.

Their skinny bodies are covered in plastic bags or blankets as they sleep right next to each other to escape the cold and rigid nights. As the first rays of light are sipping through the trees the town is slowly awakening. Some children are running into the damp and misty fog while a young boy brings out an old t-shirt and starts cleaning up the children's urine and dirt from the concrete floors.
There is a silent agreement with the city dwellers, that the street children are allowed to sleep on the cold floors of the town, as long as every trace of them ever being there is erased in the morning. Nobody wants to know where the homeless children sleep at night.
They are forgotten by people. Ignored in social debates. Through police raids they are forced to their deaths. The homeless children are a common sight in the modern Kenyan society. During the 20 years I have been travelling between Kenya and Finland the number of street children has increased rapidly. Today, I find them in the smallest of cities, including the village I grew up in myself.
My name is Sofia Jern. I am a Finnish photography student at UAS Novia in Finland. In April 2016, I had the honor of accepting a Sony World Photo Award when winning the Student Focus competition with my photo series "Glue Boys". The past year I have repeatedly returned to Kenya, my second home. I have spent my days and nights documenting the lives of the street children in town of Kitale.
I felt like flipping a coin when deciding to pursue a career in photography. It is safe to say that it was a passion of mine, but that is not why I chose it. Photography is my way to communicate inequalities, or in this case, give the street children of Kitale a voice.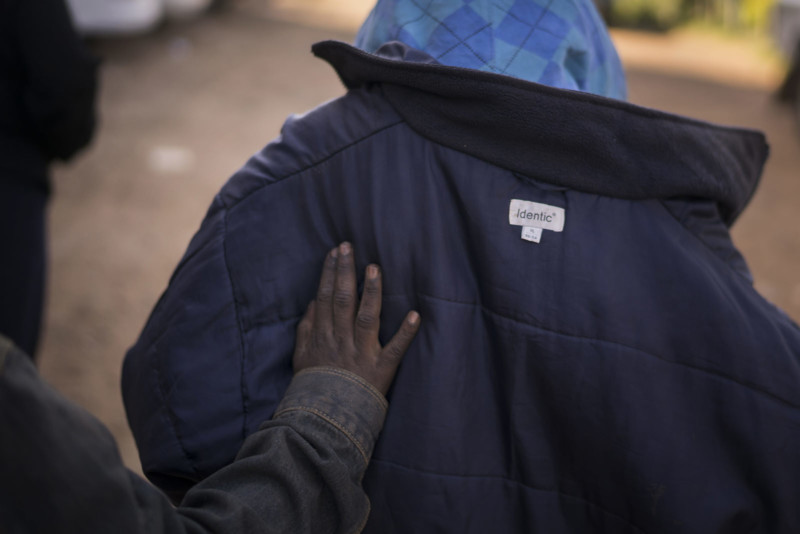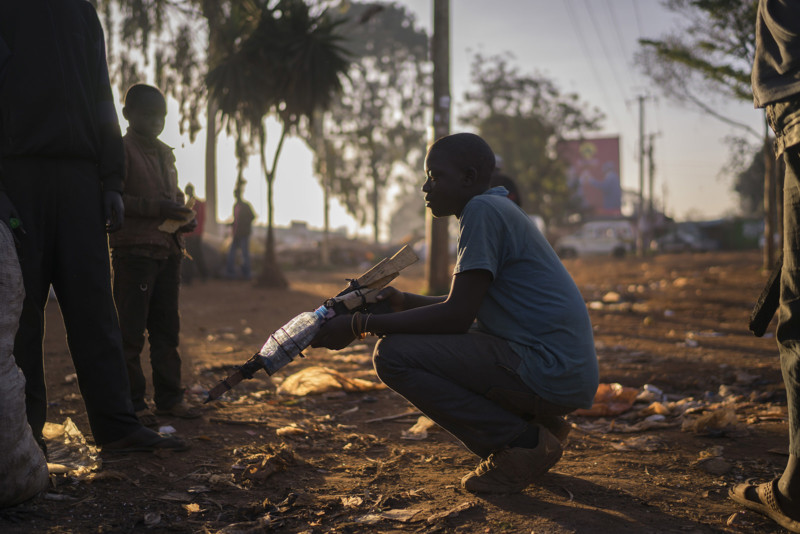 In Kenya, there are 250,000 to 300,000 children living and working on the streets. The use of psychoactive substances, or in this case glue fumes, among street children for survival has been a prevalent problem in most urban centers in Kenya. This is also why they are called the Glue Boys.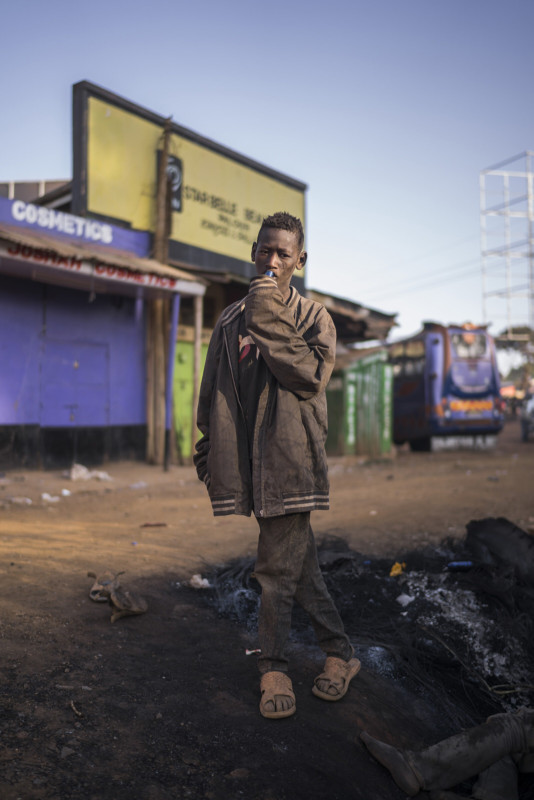 Street children is a global phenomenon. In Colombia they are called 'mariginais' (criminal), in Rio de Janeiro, 'polillas' (moths) in Bolivia, 'bui doi' (dust children) in Vietnam, 'saligoman' (nasty kids) in Rwanda, 'moustiques' (mosquitos) in Cameroon and 'chokora' (garbage picker) in Kenya. I know them by the name 'glue boys'.
Most street children reflect an image of misery, suffering and neglect. They are viewed by society as being dirty, dangerous, unhealthy thieves and so are consequently treated with apathy and disgust. The social stigmatization directed at street children is based on their appearance.
But the children I met go under the name Shidriki, Kevin, Brian and Shadrak, and I can not ask this question enough: who will take care of you?
---
About the author: Sofia Jern is a photographer based in Finland. Having grown up in Kenya, she became aware and interested from an early age in the issues of social inequality and human rights. You can find more of her work on her website.
Tags: documentary, glueboys, homeless, homelessness, inequality, kenya, kitale, photoessay, socialjustice, sofiajern