Year 2 Spellings Homework Clip
Year 2
Welcome to the Perfect Performers!

Spring 2
This half term, we have studied and researched Barnsley in the past and present. We created maps of Darfield using a simple key for physical and human landmarks. The children enjoyed walking around Darfield and studying the landmarks such as the church, library and the park.
Monday 26th February 2018
This week, we started our new Science topic, The Great Expedition! The children have researched and designed a play mat for a baby. The children have started to work in small groups to create an interactive baby mat – photos to follow soon 🙂
Thursday 1st March 2018 – World Book Day cancelled due to the snow 🙁
Spring 2 Homework
Week 1 – ment spelling sheet
Week 2 – ness spelling sheet
On the run up to SATs in Year 2, you can help your child by reading a few pages of their book every day! Try and ask your child questions about their book. Here are a few examples you might ask:
QUESTIONS:
Which words describe what Red Riding Hood is like?
What was it like in the forest? Find two words that describe it.
Why did Red Riding Hood visit Grandmother?
What is the lemonade like?
Which word tells you what the cake is like?
Which word means 'act like' or 'make believe'?
How did thewolf pretend to be grandmother?
What did the wolf want to do?
What does 'fortunately' mean?
How did the woodcutter save them?
Why did they live happily ever after?
To support your child in Maths you can help them to develop their times tables knowledge especially their 2s, 5s, 10s and 3s.  Here is a good game for them to play on their iPad or tablet.
https://www.topmarks.co.uk/maths-games/hit-the-button
Spring 1
This half term, we have been looking at animals and their habitats. We have discussed living, non-living and never been alive.
In Literacy, we have been learning about Eric Carle and looking at his books. On Wednesday, we went outside to investigate the plants and help us with our descriptive writing.
Homework – Spring 1 homework
Spellings all spelling sheet
Topics –
Animal Antics –
Explore and compare the differences between things that are living, dead, and things that have never been alive
Identify that most living things live in habitats to which they are suited and describe how different habitats provide for the basic needs of different kinds of animals and plants, and how they depend on each other
Find out about and describe the basic needs of animals for survival (water, food and air)
Describe how animals obtain their food from plants and other animals, using the idea of a simple food chain, and identify and name different sources of food
This is Yorkshire –
 Name, locate and identify characteristics of the four countries and capital cities of the UK and its surrounding seas
 Use basic geographical vocabulary to refer to key physical features
Use basic geographical vocabulary to refer to key human features
Use simple compass directions (N, S, E and W) and locational and directional language
Devise a simple map and use and construct basic symbols in a key
Use simple fieldwork and observational skills to study the geography of their school and its grounds and the key human and physical features of its surrounding environment
 Significant historical events, people and places in their own locality
__________________________________________________________________
Our Christmas production is on Wednesday 13th December at 2pm.
13th October 2017 –  PE days have changed. Year 2's PE lesson is on a Tuesday and Wednesday.
Homework is handed out on a Friday at the beginning of each half term.
Lots of creative homework is happening and we want to provide you with an easy way to share it. Have you just finished making a model? Is your homework a creative project like a science experiment? Any homework that is not in homework books can now be evidenced with a few snaps and emailed to your class teacher! Be as creative as possible and evidence your homework the easy way.
j.bedford@smat.org.uk
Autumn 1 – Autumn 1 homework
Autumn 2 – Autumn 2 homework
Spellings –
autumn-1-common-exception-words
words ending in il –  Spelling practise sheet
words ending in le – le Spelling practise sheet
Reading books will be changed on a Friday. Please read with your child every day and record in their home reading record book.
Spellings will be handed out on a Monday and these will be tested on the following Friday.
PE – Tuesday and Wednesday.
Autumn 1 topics
Entertainment –
Research toys from past and present. How do they work? What are they made of? Who were they for? How have toys changed?
Explore different existing toys, games and computer APPs
Show skills of making different kinds of toys (including how to create an APP game)
Study physical changes of theatres/buildings
Changes in entertainment – what forms of entertainment have there been for children in the past? Which of these still exist? How have they changed?
Learn skills of different forms of entertainment including evaluating existing performances
Create final show and perform in front of an audience.
Complete Athlete –
Pupils will learn about the basic needs of humans (and other animals) for survival including food, drink etc.
E-Safety –
Consolidate understanding of using the internet and safe sharing of personal information online. Video Clips and activities to teach the children to use the internet safely.
Literacy Genres –
Traditional tales
Fantasy Stories
Author Study
Instructions
Explanations
Character descriptions
Information texts
Rhyming couplets
letters
Recount
Numeracy –
Place value
Addition and subtraction
Multiplication and division
Fractions
Measure – time, money, volume, capacity and length
Geometry
Any questions, please come and ask.
Thanks,
Miss Bedford
Autumn 1
As part of our design and technology topic, the children have designed and created a puppet. The children have used felt and cotton to sew their puppet.
Year 2 busy creating their puppets!
On Friday 29th September, Year 2 celebrated Roald Dahl day and they came to school dressed as their favourite book character.
The witches, Matilda, Fantastic Mr Fox and Willy Wonka!
Fantastic Mr Fox working hard solving math problems!
Year 2 have started playing their first musical instrument! They are the first children in Barnsley to play the pBuzz!
Year 2 have settled into their classroom very well. The children visited the school library for the first time on Friday. They enjoyed looking at the different books and sharing their favourite stories with their friends.
Reading some traditional tales
Chilling with their favourite book
Sharing their favourite book with their friends
 Fantastic homework!!
Year 2 have been creating some fantastic homework at home. They have designed and created a selection of musical instruments as part of our entertainment topic. The children have enjoyed sharing their homework with their friends.
 Entertainment
As part of our Entertainment topic, the children have researched toys from the past and present. The children talked about different toys and used a timeline to find out when each toy was invented.
Did you know that Lego was created in 1934?
 The Brainy Bugs – September 2016 – July 2017


On this page we will keep you up-to-date with all of the things we have been up to in and out of class.
Mrs Halawin & Mrs Parish
---
NEWS
Summer Term
Please find below  our homework and spellings for Summer 1 term.
Homework Email:
Lots of creative homework is happening and we want to provide you with an easy way to share it. Have you just finished making a model? Is your homework a creative project like a science experiment? Any homework that is not in homework books can now be evidenced with a few snaps and emailed to your class teacher! Be as creative as possible and evidence your homework the easy way.
Year 2 Homework Email:n.halawin@smat.org.uk
Homework:
autumn-1-homework
autumn-2-homework
spring-1-homework
Spring 2 Homework
summer 1 Homework
summer 2 Homework
Spellings:
autumn-1-common-exception-words
cew-autumn-2
cew-spring-1
CEW Spring 2
CEW Summer 1
CEW Summer 2
Topic overview:
topic-year-overview
Summer Literacy and maths objectives:
curriculum 1
---
Here are some of the things that you have been up to at home: 
Thank you for all of your wonderful videos and photos, it is brilliant to see what you have been getting up to at home. We regret, however, that we are unable to upload videos to the website as they are too large. We can still upload all of your fantastic photos and we will be sharing your videos with the other children in class and saving them to the school computer. Thank you!
Summer 2
Ava's Fantastic homework about toys from the past
Summer 1
We hope you have had a wonderful Easter holiday! Our topics this half term are: Nature week (plants) and Entertainment. Take a look at our topic overview to see what we will be covering.
Ava has started a plant diary. We are looking forward to seeing how it gets on!
Harriet has been researching toys and games from the past.
H homework 04.05.17
Karla has been playing some of the games her Mum used to play at school.
Spring 2
Zac and Toby identified properties of materials around their home.
Tiana and Sophie made some Easter treats!
Karla identified properties of materials around her home.
Kacper made Easter buns.
Jack has been making Easter treats.
Ava R made some delicious Easter buns and wrote the instructions for how she made them.
Harriett has been finding different materials from around her home and naming their properties.
Spring 1
Some more of our brilliant homework.
WELCOMETOYEAR2ANDDAHLCLASS
Mrs Wise
Welcome to Year 2's web page and we hope you enjoy looking at some of the exciting things we have done together this year! 
Timetable
Please make a note of the following:
PE: Our allocated PE slots are now on a Monday afternoon and a Wednesday morning, however, occasionally routines may change so I recommend leaving your PE kit in school all week. 
Homework: Homework will be given out each Friday to be returned by the following Thursday. In year 2 weekly homework will consist of: daily reading (10 minutes), spellings, mental maths, one piece of English homework and one piece of Maths homework (usually to consolidate the previous weeks learning). Homework relating to our Topic may also be given to replace either Maths or English work. Spellings and Maths Facts will be tested each Friday morning. To adhere to the homework policy, homework must be completed on a Thursday dinner time if it is not handed in by Thursday morning (the homework policy is on our web site). Also, please can your child bring their current reading book and homework diary to school every day - this will help me to identify which children need to move up our class 'Reading Beanstalk' and who deserves a reward on a Friday afternoon for reading 4 or more times during the week.
Spring Term 2 is going to be a busy time as we change topics and move on from studying the key historical event of 'The Great Fire of London' and head off to explore the world's rainforests. The Curriculum Overview for this terms topic is attached.
Meet the Rainforest Animals...
On Monday we will be finding out about many of the unusual and amazing creatures that live in the rainforest as Guy Tansley brings the rainforest to us! Guy will share his expertise with us and we can't wait to find out all about his trips to the rainforest and the animals that live there by actually meeting them!  
As an entry point to our Great Fire of London topic, the children met Samuel Pepys's maid, Jane Edwards, who happened to have with her his diary from 1666 which was full of facts, statistics and information about the great fire. We had to decode Samuel Pepys's diary as it was written in code (he worked for the government and he was in charge of the Navy and he wanted to keep the information in his diary top secret)! 
We also discussed fire safety tips, evacuation routes and procedures, and what to do if we came across a house fire. Finally, we enjoyed watching the short film Francis the Firefly which helped us to understand how just one single tiny spark can cause such a great fire! 
Here are some of the questions we came up with as part of our topic entry point about the Great Fire of London. We answered them in a quiz as our exit point at the end of the topic
Q: Why didn't anyone phone 999?   A: Because there wasn't any phones!        
Q: Why didn't the fire brigade come? A: Because there wasn't a fire brigade as such
Q: What caused the fire?  A: A spark from  an oven that wasn't extinguished
Q: Who was to blame? A: Thomas Farriner, the King's baker
Q: Where did the fire start? A: The the bakery on Pudding Lane
Q: How was the fire able to spread so far? A: Because the houses were close together and the strong wind fanned the flames and the houses were made out of wood which was very dry from a long, hot summer.
Q: How was the fire extinguished? A: By making fire breaks and pulling down houses with fire hooks and blowing houses up using gunpowder.
Q: Why did the fire last for more than four days? A: Because it spread faster that it was able to be controlled 
Q: What was different about this fire to make it such a disaster? A: The weather played a big part in causing such a huge fire, Also, the fire was played down in the first 24 hours and was not considered to be dangerous
Q: How much of London was destroyed? A: 80% of London was burnt to the ground.
Q: How many people died? A: 6 people died. Q: Were homeless? A: Over 100 thousand people were homeless.
Q: How many houses and which other buildings were burnt to the ground? A: 13,200 houses were destroyed and 87 churches including St Paul's Cathedral.
Q: How can we find out about the fire? How do we know about the fire? A: From eye witness accounts such as Samuel Pepy's diary.
Q: How was news spread about the fire? A: By warning bells (town crier and church bells)Q: What changes were made after the fire? A: Bricks were used to build houses instead of wood, fire insurance was introduced, a fire hydrant system for access to water. 
London's burning, London's burning,
Fetch the engine, fetch the engine,
Fire! Fire! Fire! Fire!
Pour on water, pour on water.  
In music we have been singing the song London's Burning in a round. At first we found it quite tricky to sing at a different time to another group but we used resilience and we cracked it. We are now so good that we can sing a round in four different groups! Practise has made us perfect!
We are now learning another song which has different parts rather that rounds and we are practising singing the two different parts simultaneously. We can also sign the words as we sing them and some of us are rehearsing parts on tuned instruments to accompany our singing about the Great Fire of London.       
In Design Technology, we have been working hard building our tudor houses. Rome wasn't built in a day but these certainly were - well almost! Now that the basic structure is in place, we need to add detail and some design features (such as an overhanging jetty, dormer windows, leaded glass, beams and a pitched, thatched roof). 
In Geography, we have produced street maps of London in 1666. We labelled the key streets and buildings and then plotted the fire spread (from Sunday 2nd September to Wednesday 5th September). We used our maps to support our diary writing as we reported on the fire spread through the eyes of Samuel Pepys.   
    ...Ashley Hilton - Amethyst for Communication
Well done Ashley for a huge improvement in your writing. You are thinking very hard about your sentence structure and making sure that it makes complete sense.  
Our 'Recommended Reads' so far...
This week's 'recommend a read' is going to be chosen by...
****  Paige  ****
We can't wait to hear all about you chosen text. Please bring your book in and share it with us!
English
This week we will be writing diary extracts in the first person as Samuel Pepys. We will order the events of his day (Sunday 2nd September 1666) and use the features of diary writing to produce a detailed recount of The Great Fire of London. 
Spring Term Grammar Objectives (non-fiction writing):
2.3.b.2 Learn how to use: sentences with different forms: statement, question, exclamation, command.
2.3.a.2 Learn how to use: subordination (using when, if, that, or because) and co-ordination (using or, and, or but).
2.3.a.1 Learn how to use: expanded noun phrases to describe and specify: e.g. the blue butterfly.
2.3.b.3 Learn how to use: the present and past tenses correctly and consistently including the progressive form.
2.3.c.1 Use of capital letters, full stops, question marks and exclamation marks to demarcate sentencesCommas to separate items in a list Apostrophes to mark where letters are missing in spelling and to mark singular possession in nouns (e.g. the girl's name).
Spring Term Spelling Focus:
2.1.b.3 Add suffixes to spell longer words, including -ment, -ness, -ful, -less, -ly
<KPI uses the suffixes -er, -est in adjectives and -ly to turn adjectives into adverbs>
2.1.b.1 Spell by: learning the possessive apostrophe (singular): e.g. the girl's book.
2.1.a.3 Spell by: learning to spell common exception words.
2.1.a.1 Spell by: segmenting spoken words into phonemes and representing these by graphemes, spelling many correctly.
2.1.a.2 Spell by: learning new ways of spelling phonemes for which one or more spellings are already known, and learn some words with each spelling, including a few common homophones.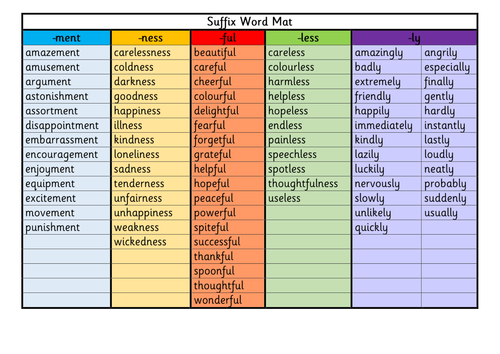 Maths
Over this half term, we will be working hard on mastering measures and geometry. We will begin with mass, time and money, then move on to properties of shape. This weeks objectives will be taught through the context of our topic as we sequence the events of the Great Fire of London and look at timescales and intervals of time linked to key events and decisions made at the time. 
2.1.2 Know the number of minutes in an hour and the number of hours in a day
2.2.1 Tell and write the time to five minutes, including quarter past/to the hour and draw the hands on a clock face to show these times
2.2.2 Record the time on an analogue clock in words
2.1.1 Compare and sequence intervals of time.
Maths Facts:
Don't forget to keep practising counting forwards and backwards in multiples of 2,3,5 and 10
and working on times tables facts for the 0,1,2,3,5,10 times tables. Learn times table facts in and out of sequence and see how fast you can answer questions correctly.
3 x 5 = ?           4 x 10 = ?           ? x 3 = 18           ? x 5 = 85           4 x 20 = ?             ? x 50 = 250
0, 2, 4, 6, 8, 10, 12, 14, 16, 18, 20, 22, 24.................24, 22, 20, 18, 16, 14, 12, 10, 8, 6, 4, 2, 0       
0, 5, 10, 15, 20, 25, 30, 35, 40, 45, 50, 55, 60.......60, 55, 50, 45, 40, 35, 30, 25, 20, 15, 10, 5, 0
0, 10, 20, 30, 40, 50, 60, 70, 80. 90, 100.................100, 90, 80, 70, 60, 50, 40, 30, 20, 10, 0        
0, 3, 6, 9, 12, 15, 18, 21, 24, 27, 30, 33, 36..............36, 33, 30, 27, 24, 21, 18, 15, 12, 9, 6, 3, 0
Maths facts challenge cards will be coming home with your child this term for them to practise facts and work towards achieving Bronze,Silver and Goldawards;
BRONZE:
Instant recall of number bonds to 10 and 20 and associated subtraction facts;
Instant recall of 2, 5, 10 times table facts in and out of sequence and associated division facts;
Instant knowledge of doubles to 20 and halves; 
SILVER: 
Instant recall of bonds to 10, 20 and 100; 
Instant recall of 2, 3, 5, 10 times table facts inand out of sequence and associated division facts (four fact families) and makes links to multiples of 10 (eg. 2 x 3 = 6 so 20 x 3 = 60 or 60 divided by 2 = 30);
Instant knowledge of near doubles by adjusting;
GOLD: 
Instant recall of 2, 3, 4, 5, 10 times table facts and associated division facts in and out of seguence (four fact families) and makes links to multiples (eg. 2 x 3 = 6 so 2 x 6 must be double 2 x 3!) 
Common multiples found easily from known times table facts.
multiples of two digit numbers are found easily by partitioning and using known times table facts and multiples of facts (eg, 3 x 24 = 3 x 20 and 3 x 4 = 60 + 12 = 73)  
What did we get up to during the Autumn Term?Find out below...
We are amazing learners!
Learning Goals for this term are...
IMG_1965.MOV
We sequenced the events of the great fire and set the time from Samuel Pepys's diary entries.
This weeks spellings to learn...
Our Nativity, Prickly Hay, was a huge success. There's nothing quite like a good hoedown to celebrate the birth of Baby Jesus. Well done Dahl Class for the amazing acting and thank you to Key Stage 1 and Nursery for the brilliant singing and added cuteness!